Simoco Wireless Solutions a global leader in developing mission critical communication solutions across the World is proud to donate digital two-way radio equipment including both mobile radios and portable radios to Mine Safety and Training (MST) which will be used in their state of the art training centre in Malaga, Western Australia.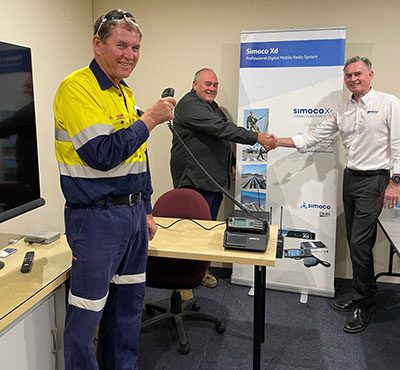 The addition of these radios on site will allow MST to further expand its services by offering two-way radio training in the Malaga training centre. Peter Scarlata, Chief Executive Officer at Simoco Wireless Solutions, said: "Simoco Wireless Solutions is proud to support the work of many organisations that are making a unique contribution in their communities. MST does an incredible job of supporting the mining industry and we hope the addition of our radio equipment offers the necessary support for new miners requiring training on basic radio use and new features".
Peter Nicholls, Founder of MST alongside his team have 120 years combined experience in the mining industry having specialised in both underground and above the surface mining offering the "MST mine ready programme" introducing new people to the industry with experiences such as mine simulation, inductions and training, risk management and more. He said: "The addition of Simoco digital two-way radio equipment at our premises further enhances our offering by providing new miners the necessary hands-on radio experience they need in a mining environment".
For more information on Simoco's next generation wireless connectivity solutions for the mining industry visit here.
For information on MST's course information visit here.
About Simoco Wireless Solutions
Where communication is critical, Simoco Wireless Solutions delivers innovation, reliability and absolute trust. Simoco Wireless Solutions ensures organisations can transmit mission-critical voice and data smartly and securely, 24 hours a day, 365 days a year across networks capable of operating in some of the world's most challenging environments.
Simoco Wireless Solutions' platform agnostic approach ensures the best-fit solution for each customer, including a smart approach to unified communications that allows organisations to draw together disparate technologies across multiple sites and assets, transitioning effortlessly to next-generation standards like LTE.
https://www.simocowirelesssolutions.com
About Mine Safety and Training (MST)
MST offers a diverse range of OSH orientated courses and systems implementations, as well as advice and labour hire, helping organisations create the safest workplace environment possible.