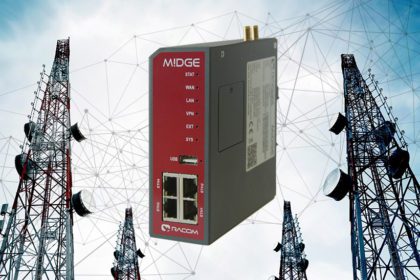 What are Cellular routers?
A cellular router is a transportable device which enables users to connect to the Internet via a cellular data network rather than cables. The benefit a cellular router provides is that they let many users access the Internet using just one integrated cellular networking system. As opposed to conventional modems, a cellular router does not require an Ethernet wire, phone line or fibre optic connection to connect to the Internet. Rather, they are able quickly connect to cellular towers that belongs to certain networks.
For that reason, users can utilise these routers in places where a conventional router will not function, like a travelling vehicle or places where there is no land-line access especially in rural areas where people need to stay mobile. Cellular routers are used for a broad range of industrial wireless applications. These include SCADA and telemetry in the utilities sectors, point of sale systems in the retail industry, ATM's and security and surveillance solutions. Cellular routers can also provide a failsafe for other communication systems.
Our solutions
Our cellular routers have been developed primarily for data transmission in SCADA and telemetry applications, but can be used wherever wireless data transfer is paramount. The M!DGE2 router is designed to utilise all services provided by mobile operators from GPRS to HSDPA on all the usual frequency bands. Users have at their disposal 2 x SIM cards, 4 x Ethernet ports, an RS232 port, one digital input and one digital output as well as a USB interface. It also has the ability to add expansion modules such as GPS or an additional cellular module.
To withstand temperature extremes ranging from -40 to 70°C and unforgiving operating conditions in industrial IoT deployments, the M!DGE 2 is built with metal casing and with an integrated SIM card cover predispose the router for deployment in very harsh industrial environments.
The M!DGE2 serves a range of high performance IoT use cases:
End to end electronic payment products and services – the hardware for ATM machines must be extremely reliable as there is little or no possibility of online servicing. Proven for its reliability, the M!DGE2 router offers key security features including AES data encryption, IPSec and VPN tunnelling to protect sensitive data that must be transmitted.
Organisations such as utility companies which monitor high value assets in the field, often in remote areas with wide temperature variations, dirt and moisture. At the same time, they need to thwart cyber-attacks and therefore require robust solutions that are designed to reduce security vulnerabilities.
Suitable for all SCADA and telemetry applications – for example in manufacturing and in the distribution of electricity, water, gas and other utility products, in transaction network of ATMs and POS terminals, as well as in all other applications using the data service provider network.
Smart cities, transportation systems and industrial operations can now take advantage of machine connectivity to optimise efficiencies, improve user experiences and productivity, and boost outcomes and results. Whether deployed in financial service applications with a distributed network of outdoor ATMs, or a utilities application managing data communication with remote SCADA sites, the M!DGE2 provides outstanding connectivity and device monitoring.
Creating a hybrid network with cellular and mesh networks combined
The M!DGE2 router combined with a mesh modem allows the creation a hybrid GPRS and radio network. The unique features allows you to create networks that meet the highest requirements for security and reliability, even when the GPRS service is not available or does not meet your application requirements in some territory locations.
Benefits of cellular router networks
Industrial design
The M!DGE2 router has been designed with components to meet the industrial hardness which is required in heavy duty industries.
Hybrid networks
The combination of a cellular router and mesh radio modem creates an unrivalled solution which maximises use of both networks. It offers the same serial SCADA protocol FW drivers as in the RipEX data modem such as Modbus, IEC 101 and DNP3 to name a few of the protocols supported.
Advanced security
The M!DGE2 router has advanced security features such as AES256 encryption, IPsec, OpenVPN and a Firewall just to name a few of the advanced security features that are available.
Flexibility
The M!DGE2 router has been designed with attention to detail, performance, quality and reliability. All relevant start-of-the-art concepts have been carefully implemented. It is well proven product in the market since 2012, installed in thousands of industrial installations in numerous countries World-Wide providing 24/7 reliable service.
Expansion modules
The M!DGE2 router comes on board with an expansion module that allows further modules to be added such as GPS and cellular modules.
How Simoco can help your organisation to meet modern mission critical requirements
Whether your organisation requires cellular router modems on a standalone cellular network or if your organisation requires a hybrid network by combining both cellular and radio networks to create an unrivalled solution in a single network, Simoco Wireless Solutions can meet your modern mission critical requirements.
For further information on how cellular routers can provide highly secure and resilient IoT connectivity in demanding environments, contact Simoco Wireless Solutions today.
Learn more by watching this video