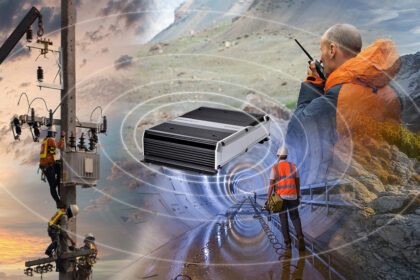 Every day, organisations around the world face a constantly evolving challenge of maintaining reliable and clear communications. Whether it's at the top of a mountain, deep in a mine shaft, carrying out maintenance duties down a manhole or precise work on pylon cables, the need to remain in communication with your team is always critical. However, it is these extreme, remote or harsh environments that often prove to be the most difficult when it comes to upholding a communications network – most often due to poor signal. With this in mind, Simoco has developed the DMR Coverage Extender (DCE) to ensure organisations never find themselves disconnected.
What is DCE?
DCE is a mobile radio application that extends DMR Tier II or DMR Tier III network coverage into weak signal areas and extends portable coverage up to 1km. Using an enabled SDM600 mobile radio, DCE can provide greater range for up to 12 authorised SDP600 portable radios. Additionally, utilising DCE does not require any additional duplex infrastructure frequency pairs as it interfaces to the radio system in exactly the same way a traditional radio operates.
DCE's Key Features and Functionality
Designed to transform your vehicle into a coverage extender, DCE ensures your personnel remain connected and in fully communication whilst performing operational duties.
It also provides the flexibility of allowing you to design a network for mobile coverage using only a third of the sites without sacrificing reliable and resilient coverage to your portable radios – ultimately saving you and your organisation money.
DCE's solution-led design allows it to penetrate obstacles and enclosed spaces, where loss of signal would normally occur.
Want to expand your coverage to more locations? DCE is rapidly deployable to quickly support temporary operations.
DMR Coverage Extender allows your workers to communicate instantly, without boundaries, and with added intelligence across the entire organisation.
Where would DCE be useful?
The deployment of DCE into the field can be incredibly diverse. As it is most commonly fitted within a vehicle, it naturally lends itself to being a versatile and mobile application that can be moved from site to site at a moment's notice. Specific areas where DCE might succeed include;
Tunnels and Mines – extending coverage from haul trucks, scalers, utility vehicles and personnel transporters to engineers, miners, safety officers, supervisors and site managers.
Manholes – enabling lone workers to remain safe, secure and in communication when carrying out maintenance or chamber inspection.
Remote Team Safety –providing remote teams of workers with a safety net of reliable communications in roles such as power line stringing, search and rescue, etc.
Building penetration – boosting communications in buildings with thicker walls, faraday cages or built up urban environments.
Fringe areas and networks designed for mobiles – maintaining vital communication lines when carrying out remote work such as wildfire control burns, antenna maintenance, park security, etc.
Forestry – connecting forestry workers out in the field with one another, keeping them safe and on task.
Voice and Location Coverage made easy
For more information on how you could utilise DCE into your communications network, protect your employees, safeguard your organisation and future proof your assets in the field – contact us today.