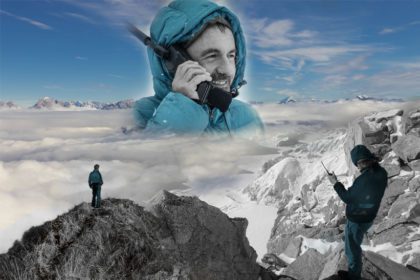 Implementing a critical communications network often has issues and challenges that need overcoming. Implementing one in an environment that is particularly hostile to radio coverage is further challenging as it can present coverage blackspots for radio communication. For instance, typical operations could involve groups of people communicating in particularly narrow gorges, shallow caves or relatively small buildings.
A Simoco 600 / 700 series DMR radio terminal (mobile or portable) with the Single Frequency Repeater (SFR) feature enabled will repeat on slot 2 traffic received on slot 1. The DMR radio terminal essentially serves as a single frequency DMO repeater.
In the figure below, Radios A, B, C and D is conducting a search for a mission person. Radio A wishes to search along a narrow gorge, but is fearful that this will remove him/her from radio coverage as the gorge's high walls will block his/her transmissions. If Radio B is positioned such that it can look into the gorge without sacrificing high ground, thereby placing itself within radio coverage of both Radio A in the gorge and Radios C and D elsewhere, then Radio B can use SFR mode on his/her radio terminal to maintain coverage between Radios A, B, C and D.
The timeslot that each radio terminal will receive the DMO traffic on is summarised in the table below.
Transmitting Radio (Timeslot 1)
A
B
C
D
Receiving Radio Timeslot
A
–
1
2
2
B
1→2
–
1→2
1→2
C
2
1
–
1
D
2
1
1
–
SFR operates in DMO mode only, and will retransmit outbound on slot 2 the following DMO calls and DMO short data services received inbound on slot 1:
Group Call;
Individual Call (Half Duplex)
All Call
Short Data Messages (Individual)
Short Data Messages (Group)
Status Messages (Individual)
Status Messages (Group)
With SFR mode enabled, a radio terminal can still participate in calls. That is, it can still make and receive group calls, individual calls, short data messages and status messages. However, whilst in SFR mode, its functionality is reduced as follows:
Scanning will be disabled because the radio terminal in SFR mode has to dedicate its resources to monitoring the DMO frequency requiring SFR functionality;
GPS reporting on a different revert channel will be disabled to prevent a conversation being repeated via SFR from being interrupted. GPS reporting on the same DMO channel is supported, as accessing this channel will follow normal Tx admit criteria;
RRS reporting on a different revert channel will be disabled to prevent a conversation being repeated via SFR from being interrupted; and
Battery life will be reduced because a radio terminal in SFR mode is transmitting during every call, not just when its PTT is pressed.
Contact Simoco Wireless Solutions today to discuss how your organisation can extend radio coverage in hostile areas with Simocos' SFR feature.
Follow us on LinkedIn
Follow our company LinkedIn page where we share groundbreaking news and stories.