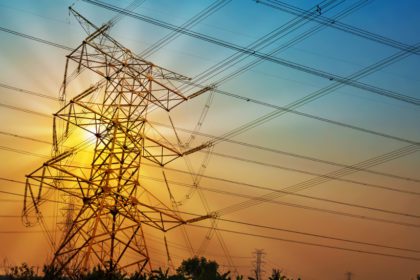 Simoco Wireless Solutions has been working with utility companies around the World spanning over seven decades. We work in conjunction with our customers to find the best fit solution for their requirements. Although we work with large customers such as Western Power Distribution (WPD) and Scottish and Southern Energy (SSE), Simoco can provide mission critical communication solutions to small or medium sized utilities. The below will outline the top reasons why utilities companies trust Simoco Wireless Solutions for their communication requirements.
Robust and resilient communication systems
Having a reliable grid is essential for any utility company. Even during outages or grid disruption, it is essential for utilities to have a robust voice communications system in place.
Mike Norfield, CEO of Simoco Wireless Solutions says "When there is an outage in an emergency situation the last thing that an engineer is going to do is grab their iPad®, they will grab their radio because of the requirement of mission critical voice".
Simoco's flagship digital radio system, Simoco Xd is built on an IP distributed architecture. Traditional DMR Tier III architectures require a central switch which is removed in Simoco Xd and if a base station or link fails, communications are maintained. Each base station processes its own calls, rather than one switch processing all of them, making the entire architecture extremely operationally efficient and delivering multi-level equipment redundancy. The link redundancy connecting the sites can be built precisely to each customer's needs using standard and cost-effective IP equipment and techniques.
Increased operational efficiency and effective smart grid management
Although robust voice communication is essential, the ability to fault find issues on the grid is essential in the need to restore power quickly as possible in the event of outages. Simoco Pulse enables utilities to add smart grid management and control functionality to its operations. If a problem on the network occurs, utility organisations save time and costs by knowing exactly where the problem is located rather than having to dispatch teams to manually search areas of the grid.
For WPD the Pulse system allowed the connection of tens of thousands of RTU devices and, with low operating costs thanks to its inherent reliability, it can be quickly scaled to provide a solution across wide geographical areas. A manager at Surf Telecoms, the subsidiary of WPD which is responsible for monitoring and maintaining the utility network said:
"The Pulse solution uses technology that has a proven track record for mission critical communications. While voice transmissions remain an essential part of this mix, low band telemetry data is just as critical if you are a utility company in 2016.
We now have a secure and reliable picture of our network and the ability to react quickly when issues occur.
In the areas where the Pulse solution has already been installed, WPD's target of restoring power within 60 minutes of an outage is well on the way to being achieved, meaning we are well placed to meet the demands of today and the future".
Enhanced worker safety
There are numerous worker safety features that Simoco provide as part of a communication system. If a worker is in danger the user can press the emergency call button to immediately alert dispatch. If a worker is unable to manually call for help, features such as man down and lone worker can send alarms to dispatch. Additionally functionality such as location services and GPS can aid in helping to resolve emergencies quickly.
Migration to digital
Simoco understand that utility organisations can find the change from an analogue or MPT1327 system to a new digital system daunting and reluctant to transfer their trust from reliable legacy analogue systems. However utilities are now increasingly turning to Digital Mobile Radio (DMR) as they face growing pressure to deliver reliability and operating efficiencies. Utilisation of DMR enables the development of business enhancing data applications such as text messaging, GPS and telemetry communications as well as advanced features such as full duplex and OTAP. Simoco has a breadth of experience in migrating organisations from analogue to digital and allows organisations to run a migration path of providing digital radios in analogue mode before the system completely switches to digital.
Bespoke customisation
Simoco's core strength is the ability to provide bespoke customisation to a communication system. We work with our customers to understand the challenges they face and identify solutions that will work for today and tomorrow. Our R&D teams across the UK and Australia are constantly innovating and bring you innovations the way you need and responding rapidly yet efficiently to your unique demands and achieving more.
Mission critical communications for your utility organisation
Learn more about our solutions for the utilities sector. Contact us if you would like to discuss the possibilities around a mission critical communications solution for your utility organisation.