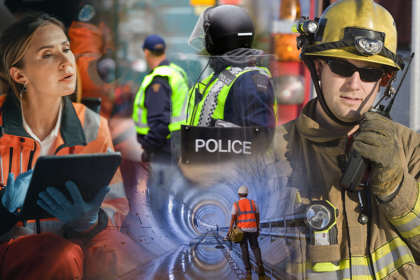 Simoco Wireless Solutions, a leading mission critical communications manufacturer have recently announced the launch of Velocity providing customers an all in one intelligent communications platform. Velocity gives organisations a dedicated platform for managing mission critical voice and data communications and is suitable for an array of markets including but not limited to utilities and mining, transportation and cash and valuables in transit, public safety and government.
Exploring the Velocity product range
The Velocity EC-800 product range provides organisations a high performance intelligent edge computing platform that harnesses wired and wireless communications bringing reliable and always on mission critical communications to public safety, transportation, utilities, mining and government sectors. With access to an array of communication networks including Long Term Evolution (LTE), Wi-Fi, Ethernet and Land Mobile Radio (LMR), the EC-800 has been built for demanding mission critical requirements either out in the field, in vehicles or harsh environments.
Velocity features and benefits
High speed internet connectivity – Velocity provides high performance Gigabit-Class LTE connectivity as well as Ethernet and Wi-Fi. Designed for fixed harsh environments or in vehicles which allows always on connectivity to mission critical users.
NodeRED – Control the behaviour and functions of Velocity by allowing users to create bespoke applications and features easily with NodeRED, a leading behaviour graphical programming tool. The application has the ability to control the LMR radio, external interfaces and functionality of the EC-800.
Extending LMR networks with LTE – Your workers can take advantage of highly reliable Push to talk over cellular (PoC). The EC-830 has the intelligence to seamlessly pick the best transmission signal carrier to deliver crisp voice making the automatic roaming between LMR and LTE truly seamless and virtually unnoticed by the user.
Bluetooth connectivity – A number of wireless Bluetooth accessories such as remote speaker microphones and push to talk accessories can be be paired for clearer communications and ease of use.
Managing devices with Velocity remote manager – Velocity solutions are offered as part of the Velocity Remote Manager service, which provides organisations a high level of manageability, troubleshooting, security, configuration management, analytics and much more.
Pathway to 5G and LTE – Velocity provides organisations a pathway to migrate their networks in order to take advantage of high speed broadband LTE. As 5G services roll out globally, customers have the option to upgrade their networks to become 5G ready for the future.
Future proof your investment with a partner you can trust
Organisations expect their investments in mission critical communications to last at least 10-15 years. Today's investment must ensure that technology is future-proof, ready for the coming demands, however and whenever they arrive. By investing in Velocity customers can have the confidence their future CAPEX will be minimised, it will boost productivity and profitability as well as maximising operational efficiencies in their organisation.
To learn more about Velocity and how it can benefit your organisation visit simocowirelesssolutions.com/products/velocity.