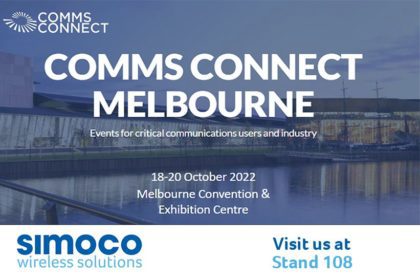 Simoco Wireless Solutions is proud to be a platinum sponsor of Comms Connect. Comms Connect is at the forefront of exhibitions for the critical communications sector in Australia. It allows industry experts to share ideas and introduce pioneering technology and key trends that are changing the critical communication landscape. Leading professionals from around the world debate where the critical communications industry will be heading in the future.
Simoco Wireless Solutions will be exhibiting at stand #108. We will be showcasing the latest in mission critical communication technology. We will take the opportunity to showcase our intelligent IoT and edge computing Velocity suite of products that will revolutionise the IoT space. Our comprehensive LMR range includes the DMR Coverage Extender (DCE) which integrates with Simoco's mobile radios in order to improve portable radio coverage while keeping users connected to either DMR conventional or trunked networks. Our current P25 products range will also be on display and we will be taking the opportunity to discuss our future launch of P25 Phase 2. The new upcoming mobile radio encompasses 4 major technologies in one device: DMR conventional and trunked, Phase 2 P25 and MPT1327. On display also will be the SRB250, a transportable rapid deployment repeater that is designed to provide radio coverage to a critical incident, emergency situation or extends existing public safety systems, either analogue or APCO Digital P25. It is an ideal solution to keep public safety agencies connected.
Simoco Wireless Solutions are delighted to announce we will be partnering with Excelerate, a leading provider of hybrid connectivity solutions to governments, civil defence agencies, and emergency services.  Our stand will feature the Linx Hub portable Wi-Fi Hotspot, the Excell 4G cellular optimisation antenna and body worn camera range.
Speakers
Peter Scarlata
CEO Australasia
Simoco Wireless Solutions
Presentation: "Delivering 21st-century communication platforms for public safety agencies in Australia".
Date / Time: 20th October 2022 at 2:30 pm
Location: Theatre 1
Peter Scarlata, CEO of Australasia will be presenting to the audience with a focus on how transitioning to mobile broadband-based applications and technology creates operational efficiencies and effectiveness for public safety agencies PSAs.
Registration
You can register to attend the Comms Connect conference which will allow you access to the exhibition area and the speaking sessions on the show floor.
Register at: https://bit.ly/3EAFv84
We look forward to seeing you at the show!